Luxy Review
OnLuxy.com

review - Rated

3.5

out of

5

by

Editor

of

DateAMillionaire.us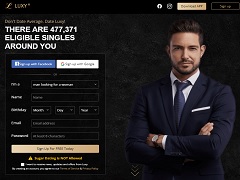 Luxy came into existence in 2014 and has proven to be a real nightmare for a lot of websites that had been dominating this segment from over a decade. Luxy is available for Android and iOS platforms. Luxy boasts of a staggering membership base of around 4 million users from all walks of life and is exclusive to men who earn over $200,000 and women earning $100,000 per year. It is free to join but users have the option of upgrading at any time.
Subscriptions
As mentioned earlier, Luxy has premium subscription plans that give users access to a whole bunch of features that have been designed according to the needs of millionaire men and women. You can get Luxy Black at the following rates:
Luxy Tune: $12.99 per month.
Luxy Key: $24.99 per month.
Luxy Black:
6 months: $58.99 per month
3 months: $79.99 per month
1 month: $99.99 per month
The app supports in-app purchases as well so you can get access to certain features instantly.
Key Features
Luxy is absolutely free to join.
Use the vouch feature to vote someone in or out. This means not every person who can afford to pay $99.99 per month can become a member of this site. You'd certainly need approval of other users.
The swipe feature has been inspired from Tinder. In case you're interested in a profile, swipe right or swipe left to ignore. Free members can play 3 rounds of this game whereas those subscribed to Luxy Black can play 6 rounds.
The 'Moments' feature allows users to upload pictures of themselves. Members can also comment on these pictures and instantly start a conversation.
The 'Topics' features is similar to forums found on other websites. Users can any part of the world can start a thread and share their opinions.
Premium users on this site would be able to verify their credentials and send messages to like-minded people from across the globe.
Editor's Verdict
In less than a couple of years since its launch, Luxy has gained immense popularity among people belonging to the upper strata of the society. The voting system employed on this site does a splendid job at eliminating unattractive people and thereby maintaining exclusivity. In addition, we were also impressed by the location-based features available on the site, which makes it easier to connect with some amazing people in your area.
On the other hand, we do feel that the premium membership of this site is overpriced although we do acknowledge the fact that the features on the site are very different and groundbreaking. All in all, Luxy proves to be a great platform where rich men and women can connect with each other and give wings to a relationship.