First Date With A Millionaire – What To Do And What To Avoid?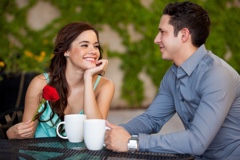 First dates are always difficult to get through and when you're all set to go on your first date with a millionaire at a fancy restaurant, things are bound to get tougher. We understand that you might be nervous on your first date with a rich man but it is essential you remain composed and make every possible effort to convince him that you're the best partner he could get.
Going on a date with a millionaire in the real world is a very different experience and incomparable to the chats you've had on the website. Remember, you cannot bluff in the real world, given the fact that millionaires are known to be highly analytical and have the ability to sense when something is fishy. This article discusses about a few do's and don'ts on your first date with a millionaire.
Dress according to the occasion and place:

In case your boyfriend has invited you on a date to a romantic dinner, it is advised to keep things formal. You could go for a dress rather than something flashy and extravagant. Besides, don't overdo makeup and wear a lot of ornaments as they usually look outdated. On the other hand, if it is your partner's birthday and he wants to spend this special day with you, opt for something more casual. Always remember, wearing something that you're comfortable sexier than conventional skin – show.

Don't speak about something you know nothing about:

If you have no idea about the results of the recently concluded super bowl, don't talk about and accept the fact that you aren't interested in that field. In order to date a millionaire, you'd have to come at terms with the fact that you cannot have the same set of like and dislikes, and there would always be some differences. Besides, rich men hate it when women agree to everything they say without giving any sort of opinion.

Avoid talking about his money and social status:

The reason he has agreed to come out on a date with you is you mean something special to him. Don't behave like a fan and be curious about everything he says. It is important to be normal and speak about the casual stuff. Engaging in discussions pertaining to his money/finances or social status would give him an impression that you're in only for his money. Your relationship is certainly in jeopardy once he starts thinking this way.

Follow precautions:

Leading millionaire dating sites emphasize on the significance of safety. Always meet the person in a public place and give your friend all the details pertaining to the person you're meeting and the place you intend to visit. Avoid going to place you know nothing about and don't visit his place right on your first date.