How to Date A Millionaire Offline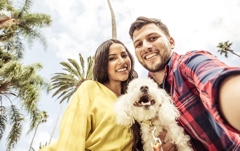 It's easy to meet men online. You simply find a dating site that caters to your dating goals – like meeting a man with the same interests as you, meeting someone with the same religion or meeting a rich man – and sign up for a membership. Then you create your profile by writing a few paragraphs about yourself and upload a photo.
Then you wait.
Sooner or later, you'll get a message from someone, and you chat back and forth. If it's a millionaire you're after, you might talk about what he does, what you like to do, and what you like to do with your weekends. The conversation flows along easily, and then he brings up that inevitable next step.
"I like you," he says. "I think we should meet up."
Gulp.
If this is your first time on a rich man dating site, you might be a little bit nervous. It's one thing to date someone online, to chat over Facebook or Skype or email, but quite another to date a millionaire offline. Taking your relationship into the real world can be a nerve-racking thing. But if you are looking to date a millionaire, you will eventually have to meet him in person. Here are our tips to dating a millionaire offline.
Remember that a millionaire is a regular person – just with more money
First of all, you need to relax. Millionaires are regular people, just like you and me, only he happens to have more money. He's got hopes, dreams and goals, and interests. He's had setbacks and disappointments like everyone else, and has been let down. He also just wants to be happy in life. Remember to treat a rich man like a regular person. Tell jokes, share stories and suggest fun, low-key things to do. Above all, don't be afraid to be yourself.
Don't treat him like a human credit card
Remember, you're dating him because you like him, not just because he's very wealthy. Yes, you should let him take you out – especially if he's been telling you about restaurants that he wants to show you – but when you meet in real life, you should offer to pay at least some of the time. Treat him just as you would any other relationship.
Respect what he does
As a millionaire, he probably has a very busy schedule running his business, checking his investments, and doing whatever he needs to do to manage his money. Those obligations are a condition of his wealth. Give him some leeway by giving him time to do his work, and not complaining when he's not free some evenings or weekends. He's a busy man!
Hang onto your own interests and identity
Just because you've got a real life date with a rich man doesn't mean that you should suddenly give up on your own life to hang out with him 24-7. Hang onto your own interests. If you liked skiing and spending time with your friends before you met him, make sure to make time in your life for hitting the slopes and meeting your buddies after.