Date Ideas for Women Dating Millionaires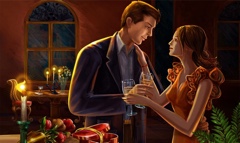 Women who are dating a millionaire often have a hard time looking for the right places for a date. Given the fact that they aren't acquainted with the preferences of wealthy men, choosing a place to head to on a date is certainly an uphill task. In this article we would discuss about the probable places that make for amazing places for a date with a millionaire.
A dinner date at a restaurant that serves your favorite cuisine
Before you decide on the restaurant, it would be wise to understand your partner's preferences. If he's not comfortable with Chinese cuisine and you love that type of food, it would make absolutely no sense. Besides, avoid choosing the most expensive restaurant in your city as that would give an impression that you're exploiting your date and you wouldn't want your potential partner to think of you as a gold digger, do you?
A stroll on the beach
There are a few things money can't buy and the pleasure of taking a walk on the beach with your partner is certainly one among these. You may choose to have dinner at a beach – side restaurant and then head on to the beach for a walk having some ice cream or sipping on child beer. Sounds like a great idea, isn't it? Indeed, this is one and gives you the opportunity to have a meaningful conversation, away from the hustle bustle of the city.
A long drive along the American coastline
Well, this idea has its own limitations. For instance, if you don't stay anywhere near a coastline, implementing this idea would be impossible. On the other hand, if you're not someone who likes being chauffer driven, this idea would prove to be a disaster. However, if you're dating someone who loves driving and owns a set of hot wheels, having your first date in a car would be amazing. You may stop at a motel and get something to munch too.
A word of caution: Regardless of whether or not you're meeting the person for the first time, it is important you follow certain precautions. Trusting someone blindly or simply on the basis of what they claim to be is not advised. It has been observed that people on dating sites tend to include false information pertaining to their income and work, among others. A person who appears to be a millionaire online might actually be looking to strip you from all your money. You'd have to keep these in mind while heading out on a date with someone whom you've met on a dating site. Always meet the other person in a public place and inform someone back home or a friend on the place(s) that you're most likely to visit.