Super Model Club Review
SuperModelClub.com

review - Rated

3.5

out of

5

by

Editor

of

DateAMillionaire.us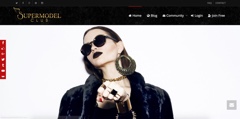 SuperModelClub.com has been created for elite singles belonging to the world of glam and glitz. The website sports a modern user – interface that is as attractive as the audience that it has been created for. SuperModelClub.com is one website that can give some of the most popular websites in the elite dating sites a run for their money in terms of design language and usability. The website is free to join and urges users to make the most of this free membership plan in order to connect with like – minded persons.
Subscription Plans
It is difficult to find a website that has so much to offer but charges absolutely nothing. Yes! SuperModelClub.com is absolutely free to join with no mention of any paid membership plans like other sites in the elite dating segment. The site design is appealing and people from all walks of life would love to use this website.
Features
Except for the amazing UI, SuperModelClub.com has nothing groundbreaking in terms of features. The site boasts of the same set of features that you'd find on any leading site that caters to the needs of elite singles.
Create a comprehensive profile once you've completed the signing up formalities on the site.
Edit the profile at your convenience, hiding information that you don't wish others to see.
Join groups according to your likes and preferences in order to connect with other like – minded individuals.
Public messaging features that are similar to chat rooms allow users to communicate with a wider audience.
Private messaging features such as emailing and IMs give users the opportunity to reach out to others and build a stronger rapport.
Block users whom you don't wish to communicate with.
Tweak your privacy settings as well as notification options.
Make your profile visible / hidden from other users on the website.
Verdict
SuperModelClub.com is designed for a narrow audience and if you happen to be interested in dating models, this is one website that you should certainly check out. Besides, as the site is free to join, there isn't much you're losing out on. Therefore, if you don't like the website, you can simply stop using its services.
The site has a great UI and you'd love to use the services available onboard. The groups and communication options on the site are spot on and work exactly as advertised. However, the site lacks a larger membership base, which can be a hurdle on your search for the perfect companion.
As a matter of fact, SuperModelClub.com is one of the very few websites that has been created exclusively for women belonging to the world of glamour and men who wish to date a gorgeous woman. All you need to do is sign up for free and you're good to go.